16 May 2022
Newcastle and Norway reconnected with flights to Stavanger and Bergen
Monday 16th May marks the long-awaited return of direct flights from Newcastle to Stavanger, as Loganair revives the popular services, reconnecting Brits with Norway.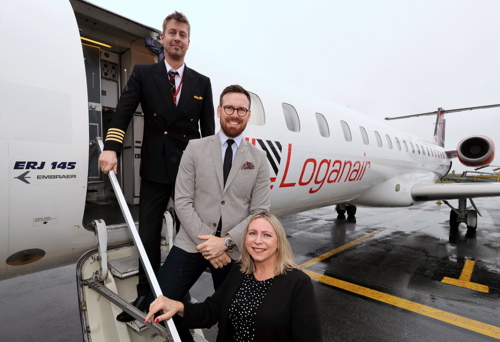 This week will also see a brand-new route that further strengthens ties between the Northeast and Fjord Norway -  with flights from Newcastle to Bergen set to take to the skies on Saturday (21 May).
The popular service to Stavanger is launched following a pause during the pandemic. It is particularly important for the Energy Sector in the Northeast which has close ties with Stavanger and is welcomed news for the business community during its recovery. The route has also been popular with Norwegian tourists coming to visit the Northeast for its leisure opportunities, in particular for the football, shopping and historic sites that are on offer. It's therefore also a welcome boost for the hospitality sector.
The route to Stavanger will see four flights per week reinstated ensuring flexibility for both business and leisure travellers, taking-off Mondays, Wednesdays, Fridays and Sundays.
There is also a further show of confidence in the return of European travel from Newcastle Airport, with a brand-new route being introduced to Bergen, Norway's second largest city. Flights will operate on Tuesdays and Saturdays and will bring the city, often referred to as "the gateway to the fjords", closer than ever to those in the Northeast
Bergen, Norway's second largest city, is an incredible hub for both culture and history, with a vibrant night life, juxtaposed with contemporary art museums, such as the KODE. Similarly, Stavanger is full of colourful homes on colourful streets, white sandy beaches, and is home to some of Norway's top restaurants.
Last week, Loganair also recommenced routes to the Norwegian destinations from Edinburgh, while additional flights from Aberdeen to Oslo Gardermoen will also commence in September to further strengthen connectivity between the UK and Norway.
Customers from Newcastle that wish to venture further and explore Northern Norway will also have the opportunity to connect easily via Loganair's codeshare partnership with Norwegian regional airline, Widerøe. Flights to these destinations can be booked at Loganair.co.uk.
Fares to Stavanger and Bergen start at £100.94, this includes a 15kg hold luggage allowance and a mandatory carbon offset charge as part of Loganair's sustainable flying programme - GreenSkies.
Loganair's Sales Manager UK, Greig White, said: "We know the business community have long awaited the return our route between Newcastle and Stavanger – its an important connection for the energy industry in both Northeast England and Stavanger and we are delighted to be able to bring it back after a pause during the pandemic.
"It's even better still to be able to further strengthen ties between Newcastle and Norway, with the launch of our brand-new route to Bergen taking-off later this week. We've been working hard with the travel trade across the Northeast to showcase just some of the amazing leisure opportunities available Bergen – it really is a spectacular part of the world and now more accessible than ever."
Leon McQuaid, Director of Aviation Development at Newcastle International Airport, said: "We have a strong working partnership with Loganair who have continued to invest at Newcastle International Airport and in the region, routes now include Stavanger and Bergen alongside the airline's existing operations to Exeter, Newquay and Southampton.
"As far back as 1937, Stavanger was the first international destination from Newcastle International Airport and 85 years later, Loganair have ensured the Northeast remains connected to 'the Oil Capital of Norway'. Stavanger is also home to one of the country's most popular attractions – Pulpit Rock, and Bergen, twinned with Newcastle City, is home to Bryggen, a UNESCO World Heritage Site.
"As well as having strong links to the oil and gas industry, both of these destinations in Norway offer passengers a gateway to the country's great outdoors, surrounded by mountains and fjords and traditional towns to explore."
Keith Conlon, Business Development Executive at NOF, the energy sector business development organisation, said: "Norway has always played an important role within the energy industry, both in terms of offshore wind and oil and gas.
"I welcome the strengthening of ties between the Northeast of England, itself synonymous with the offshore sector, and the Stavanger region, which is also heavily invested in offshore and the new energy transition markets.
"Stavanger is also home to state-owned energy company, Equinor, which in partnership with SSE, is building the world's largest windfarm, Dogger Bank Wind Farm, off the Northeast of England coast, as well as being involved in a range of investments in the UK, including Net Zero Teesside.
"The launch of the Loganair service between Newcastle and Stavanger will further encourage collaboration between the region and Norway as the UK continues its transition to more reliable, secure and sustainable energy sources."
Reservations for Loganair's newly launched service between Stavanger and Bergen, and Newcastle Airport can be made at www.loganair.co.uk, by calling Loganair's Customer Contact Centre on 0344 800 2855 or via travel agents and travel management companies using all major global distribution systems.