Luggage Weighing & Wrapping
Weigh-ahead has two pre-check-in luggage weighing systems within Newcastle International Airport which offer airline passengers peace of mind and the opportunity to avoid the costs associated with excess luggage.
The systems are the most advanced available and provide the most up to date and accurate information on the luggage allowances for each individual flight.
Passengers are guided step by step through the easy to use system, allowing them to weigh their luggage and compare it to their flight's luggage allowance. In less than 30 seconds the system will show the bag's weight compared to the airline's baggage allowance and if the bag is overweight, how much the passenger could expect to be charged at check-in. This gives passengers the opportunity to re-pack any excess luggage before they check-in, avoiding any unnecessary airline charges.
The Weigh-ahead system offers a free re-weigh should the passenger decide to re-pack their excess.
One option available for repacking is our unique fold-away travel bag, available for £10 from our Best-vend machines which are located next to the weighing machines. These are great for use not only as a hand luggage bag, but as a beach bag, gym bag or shopping bag.
The weigh systems and vending machines are located:
In the Domestic Arrivals side of the terminal on the pillar in front of the check-in desks
In the International Arrivals side of the terminal next to the escalators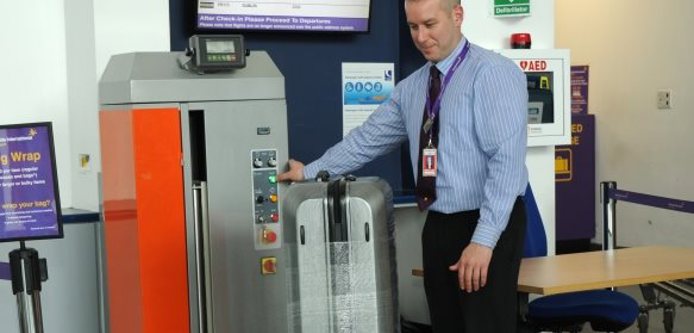 Our luggage wrapping service is great for ensuring that your bags remain in good condition.
Why wrap your luggage?
Protect luggage from scratching and inclement weather
It deters tampering
It gives you peace of mind
Cost