12 Dec 2018
Welcome Arch installed at Newcastle International Airport
A welcome arch designed to act as a gateway for travellers coming in and out of the region has been installed at Newcastle International Airport.
The striking 33ft (10m) high archway stands over the mini-roundabout on the entrance to the airport. Housing a large digital screen, the archway will be used to display welcome messages, airport news and promotions as well as advertisements.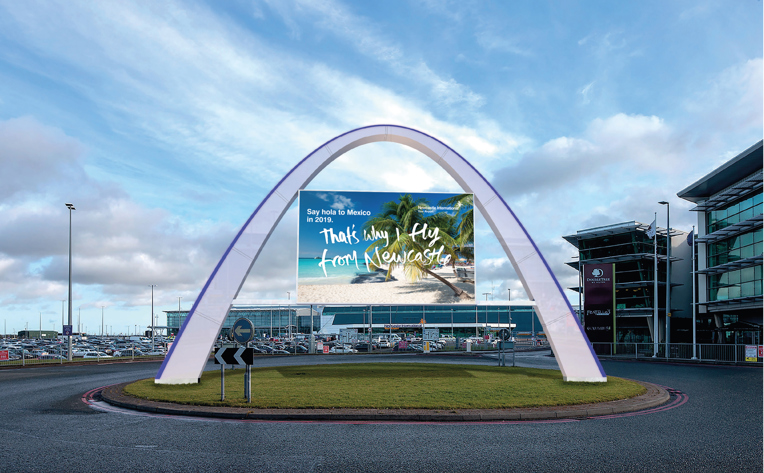 With over 5 million passengers travelling through the airport in 2017, the archway will be seen by thousands of people every day, both departing from and arriving into the region.
It is hoped the new installation will represent a gateway for visitors to the North East and provide a warm welcome to travellers when arriving for their journey from the airport.
Richard Knight, Chief Operating Officer at Newcastle Airport, said: "I'm delighted with how well work has progressed on the welcome arch, and I'm really looking forward to being able to unveil the finished product to the public.
"It will be the last thing visitors see when they leave the airport and will be the first thing that residents of the region will see upon their return after being away from home.
"The structure looks very iconic and within time I am sure that it will become something that people in the region will feel is synonymous with travelling from the airport."
Cllr Iain Malcolm, Leader of South Tyneside Council, and Chair of LA7, added: "The welcome arch will be a fantastic addition to the front of the airport, and will be a great way to greet people.
"With recent passenger growth, and the announcement of new routes such as London City, it is great to have something like this to ensure that Newcastle remains the number one international gateway of choice for people travelling to and from the airport."