20 Sep 2022
SunExpress announces new 3 weekly service from Newcastle International Airport to Antalya, Turkey for Summer 2023
Award-winning leisure airline, SunExpress, has announced a new service from the North East's largest airport to the Turkish sunshine resort of Antalya, three times a week, for summer 2023.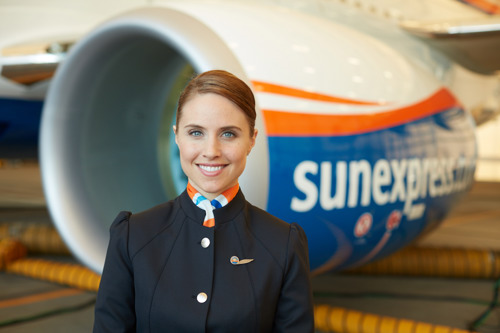 The new service, will depart Tuesdays, Thursdays and Saturdays from March 28 through to October 28, 2023.
Turkey remains one of the most popular choices for North East passengers seeking great value hotels, a warm summer climate, excellent hospitality and beautiful beaches. SunExpress, jointly owned by Lufthansa and Turkish Airlines, joins three other airlines serving Antalya from Newcastle in 2023, providing passengers with even more choice for holidays to the popular Turkish holiday hotspot.
SunExpress has recently expanded services from across the UK and Newcastle International Airport will be their sixth UK airport gateway. Tickets can be booked at SunExpress.com or via online and high street travel agencies.  
Peter Glade, Commercial Director at SunExpress said:"What could be more fitting than to add a destination to our growing flight schedule that already carries the 'New' in its name? We are thrilled to be further expanding our footprint in the UK and to add Newcastle International Airport to our route network next year. I'm sure that passengers in England's North-Eastern region will fall in love quickly with our vibrant and diverse home city. It offers everything that makes for a successful holiday: crystal-clear water, beautiful beaches, excellent cuisine and unbeatable value for money."
Chris Ion, Aviation Development Manager at Newcastle International Airport said:
''We are delighted that SunExpress has chosen Newcastle International Airport and the North East of England as their newest UK airport gateway and we look forward to welcoming the Airline to the Airport in 2023. Turkey is one of the North East's most popular holiday destinations and this summer saw our largest ever choice of flights and holidays to the destination. This new service from SunExpress will offer our passengers even more choice at competitive prices to explore Antalya, one of the most popular and vibrant holiday destinations in the Mediterranean.''
SunExpress was named Best Leisure Airline in Turkey 2021 at the prestigious Skytrax World Airline Awards. The airline currently operates flights from London Gatwick, London Luton, Manchester, Edinburgh and Birmingham airports, expanding their services for summer 2023 to include Newcastle International Airport and Bristol Airport.
To explore flights from Newcastle International to Antalya visit www.sunexpress.com