02 Nov 2022
Ryanair restores services to Barcelona from Newcastle International Airport
Ryanair have started direct flights to Barcelona, Spain, with their first flight taking off from Newcastle International Airport on Tuesday 1st November.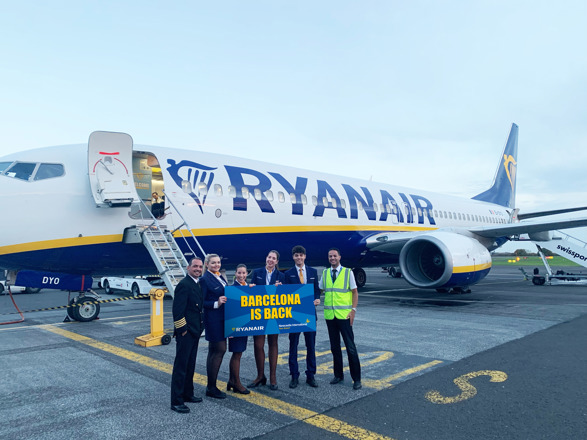 Operating twice weekly, today marks the beginning of the low-cost airline's new service to this popular sun and city break destination.
Barcelona is a city with a wide range of leisure options. Overlooking the Mediterranean Sea, and famous for Gaudí and other Art Nouveau architecture, it is a hub of new trends in the world of culture, fashion and cuisine. It combines the creativity of its artists and designers with respect and care for local traditions.
The route adds another fantastic destination onto the departure board for Ryanair at the North East's largest Airport. The airline currently operates flights to many European destinations, including Milan, Riga, Cork and Krakow.
Earlier this year, Ryanair opened its new base at Newcastle International giving North East holiday makers even more choice with 14 new destinations.
Leon McQuaid, Director of Aviation Development, said: "I am delighted that Ryanair have added Barcelona to their portfolio. Ryanair now serve 22 sun and city destinations from Newcastle International Airport, which include popular destinations such as Wroclaw, Fuerteventura, Malaga and Gran Canaria.
"The airline has reacted to feedback from the North East travelling public for the route to be restored, and we have had an excellent response to the announcement.
"This investment represents the airlines confidence in the North East's largest Airport and commitment to providing even more choice for passengers in the region. We look forward to welcoming even more Ryanair passengers through our doors this winter."
A Ryanair Spokesperson said: "As the UK's most reliable airline, Ryanair is delighted to officially launch the Winter'22 flight from Newcastle to Barcelona.
"To allow our customers and visitors to/from Newcastle to book their winter getaway at the best possible fares, we are launching a seat sale from just £19.99 for travel from November 2022 until the end of March 2023, which are available for booking until the 3rd of November 2022.
"Since these amazing low fares will be snapped up quickly, customers should log onto www.ryanair.com and avoid missing out."
Flights to Barcelona, Spain, from Newcastle International Airport started on Tuesday 1st November 2022 and are on sale now. Passengers can enjoy seats fares from £19.99 at www.ryanair.com.