15 Nov 2022
Newcastle International voted 'Star UK Airport'
Newcastle International airport has been awarded 'Star UK Airport' at the glittering ceremony of Travel Bulletin Star Awards 2022.
The Travel Bulletin Star Awards are an annual celebration of the UK travel trade, recognising and rewarding excellence and success by honouring resilient, dedicated and hardworking teams across the industry.
The awards, which are voted for by travel agents, acknowledge those suppliers that have flourished in the post-COVID months and have provided the best services to travel agents nationwide.
The award demonstrates the Airport's dedication and continued support of their trade partners across the region, which includes bespoke training and one-to-one support on the latest industry trends.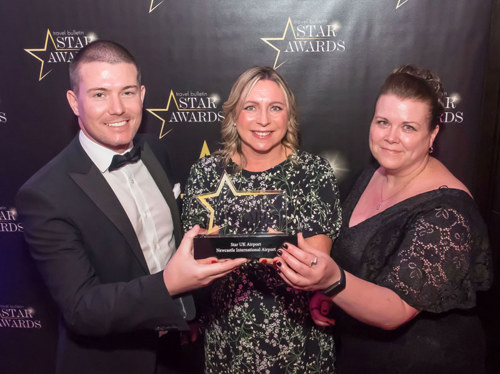 Richard Knight, Chief Operating Officer at Newcastle International Airport said:
"We are strong advocates of the travel trade and we are honoured that they have voted for us as the 'Star UK Airport'. Our dedicated, on-the-road support for agents ensures that we can help each other to grow demand for travel across the region and keep Newcastle International front of mind for travellers across the North East, and beyond."
Laura Hartshorne, Senior Aviation Sales Executive at Newcastle International said:
"We work hard to support our trade partners so I am delighted we have received this award and have this endorsement from them. It is testament to the hard work of everyone at the airport that travel industry professionals have voted for Newcastle International Airport as their 'Star UK Airport'."
Are you a travel agent in the region? Contact Newcastle International's Senior Aviation Sales Executive, Laura Hartshorne, to find out how the Airport can work with you to engage and support more travellers from across the region.