08 Nov 2022
Newcastle International Airport welcomes first Flybe flights
Yesterday, Newcastle International welcomed Flybe's first flights from Newcastle to Belfast and London.
The inaugural flights mark the beginning of Flybe's new services, operating between Newcastle International Airport and Belfast City Airport seven days a week, in addition to a weekday service to London Heathrow.
As the Airport's 17th airline partner, Flybe's services complement the Newcastle International's domestic route portfolio, supporting business and leisure travel to the countries' capitals.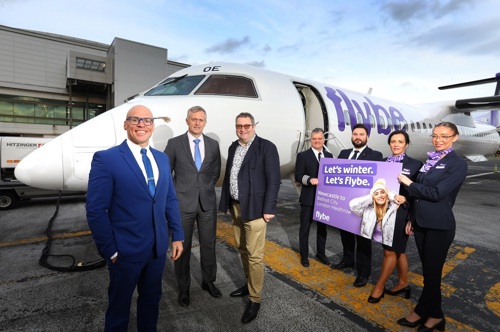 Richard Knight, Chief Operating Officer at Newcastle International said:
"We are pleased to see Flybe investing in the North East and we anticipate these new services, which offer even more choice to these popular domestic destinations, to be popular for business and leisure travellers alike.
Since announcing the route, we have received lots of positive feedback from customers and look forward to connecting passengers all week to Belfast City Airport, conveniently located in the heart of the capital, and to London Heathrow on weekdays."
Philip Saunders, Chief Commercial Officer at Flybe said:
"We're extremely excited to launch our first flight from Newcastle as this officially opens an invaluable new connection to the North-East of England for our customers. We believe that the frequent, cost-effective flights we're now offering here, to both London Heathrow and Belfast City, provide fantastic opportunity for holidaymakers and commuters."
Flights from Belfast City to Newcastle start from £34.99 and London Heathrow to Newcastle from £39.99.
For more information about Flybe and to book these new services, please visit flybe.com.