30 Jun 2022
Newcastle International Airport celebrates new year round link to Latvia with a special visitor
Newcastle International Airport is today celebrating a new year-round new link to Riga, Latvia, with a special visit from the country's North East based Consul, Steve Gillie.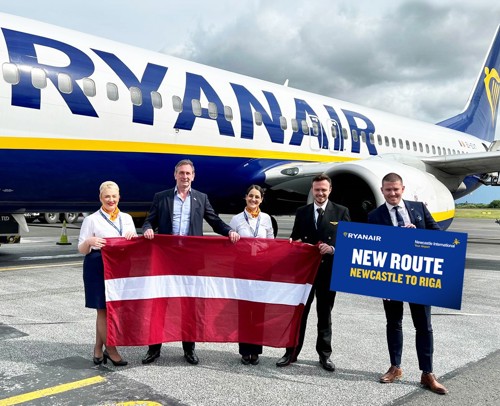 The flights, which are on sale now with Ryanair, operate every Monday and Friday between now and November 2022, and every Friday and Sunday between October 2022 and March 2023.
The route not only brings a new leisure destination to the region, but it is also hoped will open up opportunities for trade between North East and Riga-based businesses.
Latvia was the fastest growing economy in the EU in 2018 (Eurostat 2020), and the Department for International Trade cites the country as an ideal starter market for UK companies new to exporting.
The country is strategically located at the crossroads of northern and eastern Europe, not only benefitting from being at the centre of the developing Baltic States market, it also has strong transport links and is a key logistics base.
Riga, the capital of Latvia, it set on the Baltic Sea on the mouth of the River Daugava. Known for its wooden buildings, art nouveau architecture and medieval Old Town, the city makes a perfect city break destination as well as providing potential for North East businesses.
Consul Steve Gillie commented "Latvia has had trading links with the North East of England going back centuries and it's great that business is being strengthened by this direct service. There is already considerable cross trade in timber and agricultural products and I'm sure the direct flights will help develop new trades and services.
Of course, the historic and beautiful city of Riga is also perfect for a fabulous long weekend, with the flight timings ideal for a summer or winter mini-break, which I'm sure will prove very popular. Many thanks to Newcastle Airport and Ryanair for operating this service."
Leon McQuaid, Director of Aviation Development said: "The North East business community has requested a link to Latvia for some time now and we are pleased that, thanks to the investment by Ryanair this year, we are able to add Riga to our list of over 80 direct destinations.
"Following a successful summer launch, it is great news that the route is now also on sale during the winter months, ensuring a year-round service for both business and leisure."
Ryanair's Director of Digital & Marketing, Dara Brady said:
"Ryanair's Newcastle to Riga route offers vital connectivity for business travellers from both regions looking for in person connections and we are pleased to confirm that this route is now on sale for our upcoming Winter 2022/23 schedule, operating twice weekly.
"To support our Newcastle customers to book their next trip to Riga, Ryanair has launched a limited-time seat sale with fares available from just £19.99 for travel from October '22 until March '23 which must be booked by the 2nd July 2022 on Ryanair.com."