19 Jul 2022
Newcastle International Airport celebrates its two millionth passenger
Newcastle International Airport celebrated its two millionth passenger since the start of 2022 on Monday 18 July.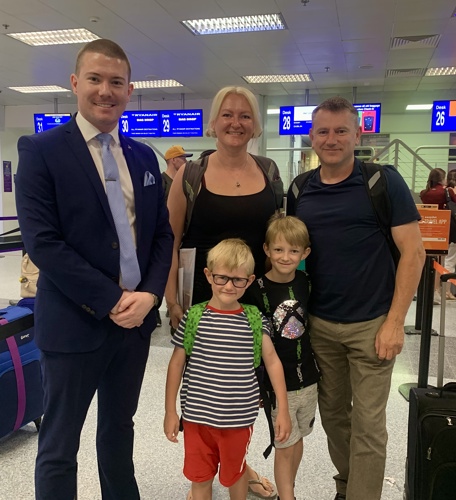 The two millionth passenger, Charlotte Watson from Alnwick, was greeted by Newcastle International Airport staff whilst checking in for her flight to Boston via Dublin with Aer Lingus.
The 33-year-old was "completely shocked" to be told they were this year's two millionth passenger and was gifted £75.00 to spend in the Airport's World Duty Free store before departure.
Charlotte, who was jetting off with her husband and two sons, said: "Thank you! I can't believe it. We are travelling to Boston and then on to Minneapolis to visit family and friends and then on to California for a road trip!"
Chris Ion, Aviation Development Manager at Newcastle International Airport, said: "It is fantastic to have welcomed over two million passengers so far during 2022.
"We expect to see almost 900,000 passengers travelling to popular destinations this summer break, including Greece, Turkey, Dubai and Spain. Many passengers will also be travelling further afield to popular cities such as New York, Sydney and Bangkok, connecting via Dublin, Dubai, Paris, Amsterdam, London Heathrow and Frankfurt.
"So far this year, 98% of passengers have passed through security in 6 minutes or less. Our passenger experience alongside this 2 million milestone is a great reflection of the Airport's post pandemic recovery and a testament to all of our hard-working employees. We look forward to welcoming more passengers back to the North East's largest Airport this summer."
Aer Lingus Regional, operated by Emerald Airlines, is one of Newcastle International Airport's 16 airline partners. The Irish airline provides one-stop connections from Newcastle via Dublin to their network of destinations across the United States of America (USA) and Canada. The airline currently offers five flights a week to Ireland's capital city from Newcastle.
Passengers travelling to the USA with Aer Lingus will also be able to take advantage of Dublin Airport's unique pre-clearance facility that allows US-bound passengers to undertake all United States immigration checks at the Airport before departure.
Passengers can fly one way to Dublin for just £36.99 and enjoy more flexibility, thanks to the airline's unlimited changes policy.