22 Mar 2019
Newcastle Airport's Training Academy celebrates 25th anniversary
Newcastle International Airport's on-site Training Academy has celebrated its 25th anniversary by welcoming delegates from all over the world to partake in its Aviation Firefighting courses.
This week, the globally-renowned Training Academy has seen senior firefighters and fire officers from high-profile airports around the world travel to the North East to be trained at the state-of the art facilities by Newcastle Airport's expert instructors.
Since its opening in 1994, the academy, based at the airport's fire station, has trained delegates from all over the world, including Portugal, India, the Seychelles and Grand Cayman.
This week's intense courses saw the delegates put through their paces as they took part in both practical and classroom-based activities, across a range of firefighting disciplines.
The practical element of the training involved command and control exercises on a large wide-bodied aircraft fire simulator, a helicopter simulator, and a light aircraft fire simulator.
The academy also has a wide range of offshore oil and gas, industrial firefighting and marine training facilities.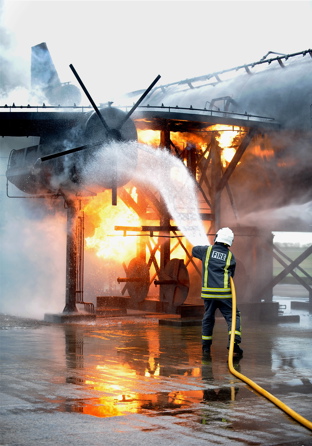 Richard Knight, Chief Operating Officer at Newcastle Airport, said: "The Training Academy has been one of the airport's greatest assets for the past 25 years, and I am extremely proud of the excellent achievements it has had during that time.
"All of our trainers are qualified to the highest standard and pride themselves on delivering all our courses in a professional, engaging and friendly manner.
"The fact that delegates travel from all over the world to be trained by Newcastle is truly a testimony to our hard-working staff and fantastic facilities.
"I am sure the Training Academy has another 25 successful years ahead of them."
During their stay, the delegates made use of Newcastle Airport's accessible facilities, and checked in to the Double Tree hotel – located just minutes from the academy.
Since establishing, the academy has developed a significant portfolio of course accreditations and partnerships with other service and training providers to deliver a wide range of relevant courses.
It also offers courses such as first aid, fire safety, health and safety, and team building events, which can all be booked by emailing [email protected].