17 May 2019
Newcastle Airport open sensory area as part of Mental Health Awareness Week
Newcastle Airport has become the first airport in the North to open a sensory area for passengers with hidden disabilities.
The area, which has been opened during Mental Health Awareness Week, provides a designated relaxing and safe environment for passengers with hidden disabilities such as autism, dementia, sensory issues and mental health issues.
The calming sensory area has been specially designed to support relaxation and de-escalation for passengers who may need to escape when those busy airport surroundings become overwhelming.
Departing passengers who need to use it will be able to relax in the serene space before they fly – and airport staff can guide travellers safely to the location.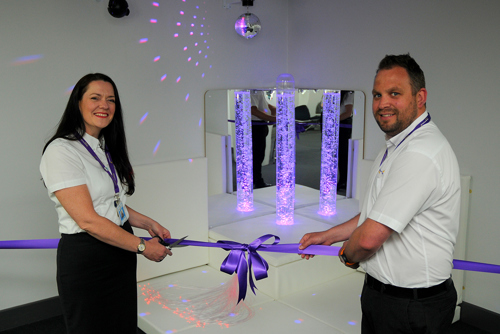 The open area is free to use, and is aimed exclusively for passengers with hidden or physical disabilities to use. 
The area features a specially-designed bubble tube, a calming LED fibre optic 'softie' and a disco ball – all of which are specially designed to stimulate the senses as well as improve motor skills.
It is also completely padded to provide a comfortable and relaxing environment for users.
Representatives from the Toby Henderson Trust, the North East Autism Society and The Children's Foundation joined airport staff today (FRIDAY MAY 17th) to watch as the area was officially opened to the public.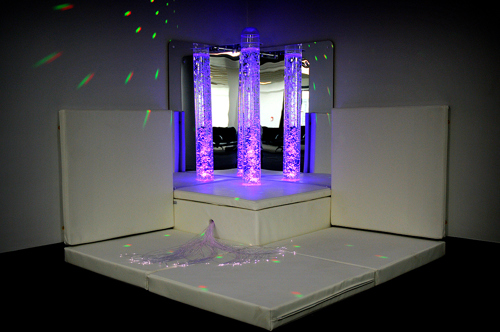 Richard Knight, Chief Operating Officer at Newcastle Airport, said: "The passenger journey entails travelling through a busy environment – which can cause stress for people with hidden disabilities.
"I think it is absolutely fantastic that we have been able to provide this new service and I hope that it will make a true difference to the passengers who will use it.
Kerrie Highcock, Family Development Manager of the North East Autism Society, added: "The North East Autism Society has a longstanding relationship with Newcastle International Airport through training and partnering to provide 'passports' for autistic travellers.
"We are thrilled that a further step has been taken to once more make the North East, and Newcastle International Airport, an exceptional place for people whose sensory needs usually preclude them from such spaces.
"We look forward to the great reports coming back as the world opens up for more and more people thanks to incredible initiatives such as this one to make a sensory space available to passengers. Well done NIA!
Acting CEO/Trustee of the Children's Foundation, Dr Sue Vernon, said: "Airports are stress filled places for us all and the sensory room is a brilliant additive to the airport, bringing a space of calmness for children and young people with sensory problems."
Sarah Stephenson, Community Fundraising Partner for the Toby Henderson Trust, added: "I think that this has been a very well thought out project by the airport – and the sensory area is in a great and quiet location.
"It has real potential to calm children down who may be anxious about their journey, and it will be a great support for parents or carers travelling with them."
The sensory area will have limited availability, however passengers do not need to book for usage.