07 Apr 2022
Newcastle Airport looks forward to the big Easter Getaway
Newcastle International Airport is preparing for the busiest two weeks of the year so far thanks to the upcoming Easter holiday period. Over the two week getaway, the North East's largest Airport is expecting to see over 200,000 passengers travel through the terminal, with many heading off on a long-awaited holiday or travelling to visit friends and family.
Nick Jones, Chief Executive of Newcastle International Airport said: "It is fantastic to see people returning to travel in such strong numbers from the region and we look forward to welcoming even more passengers back to the Airport.
"Some of the most popular destinations for the 200,000 passengers travelling through Newcastle over the next two weeks are expected to be Spain, Portugal, Dubai, the Canary Islands and Cyprus. Many passengers will also be travelling further afield to cities such as New York, Bangkok and Orlando, connecting from the North East via London Heathrow, Dubai, Paris, Amsterdam and Frankfurt."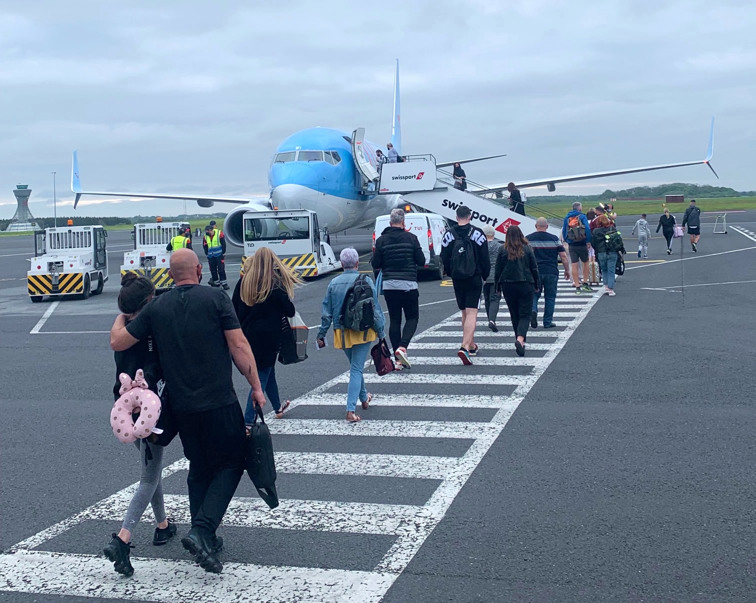 As the business continues its recovery from the pandemic, a number of new routes and airline partners have recently been secured.
Nick continues, "We have a host of new destinations and airlines for our passengers to enjoy this summer. Recently we celebrated the opening of a new Ryanair base on site, which brings with it 2 aircraft, over 60 jobs and 19 routes for the airline from Newcastle including 4 new destinations of Milan, Riga, Zadar and Chania.
"This week sees the start of even more flights to the popular sunshine destinations of Antalya and Dalaman in Turkey with Corendon Airlines, a new low cost Turkish airline to join the Airport's list of operators. Finally, next week Aer Lingus will resume 5-weekly flights to Dublin, providing even more connectivity and convenient onward connection to the USA and Canada."
Year to date 99% of passengers have passed through the Airport's security area in 6 minutes or less, however, in order to provide the same positive experience that the North East travelling public expect, the business has been preparing for many months for this significant increase in passenger numbers.
Alongside re-building and re-training its workforce, the Airport has been working closely with business partners - many of whom deliver other areas of the Airport operation such as check-in, baggage handling and immigration – to ensure the smooth operation of the terminal.
Passengers travelling during the Easter period are advised to continue to follow the recommendations from their airline as to when to arrive at the Airport and to remind themselves of the advice on the Airport's website, newcastleairport.com, with regards to preparing for security. This includes, only packing essential items in hand luggage, ensuring liquids are under 100ml and placed in a sealed, clear plastic bag (max 1 litre capacity) as well as removing all large electrical items and placing in the security search area trays for screening.

For more information about how you can prepare for security, please click here.