28 Oct 2022
Net Zero Carbon 2035: Work underway on Newcastle International Airport's £3.6m solar farm project
Newcastle International Airport has announced that the construction of Phase 1 of its solar farm project is underway, which will enable it to generate its own renewable energy by early 2023.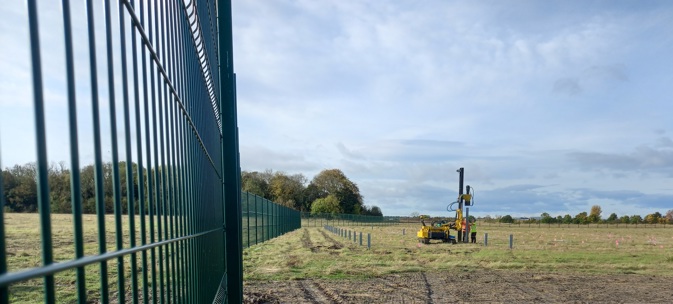 Earlier this year, planning permission was secured for a total of four phases, providing in the region of 16MW of energy. Phase 1 will provide approximately 3MW.
This first phase will be a £3.6m investment, of which 50% is funding from the European Regional Development Fund (ERDF).
The commencement of the project marks a major milestone in the Airport's ambitious strategy to be Net Zero emissions by 2035, ahead of the majority of airports across Europe which have plans to become Net Zero before 2050, and ahead of the Government's Jet Zero strategy target of 2040.
The site for the scheme is situated on Airport owned land to the south of the eastern end of the Airport runway.
The scheme will include areas of tree planting to screen the view of the solar farm from the surrounding roads and public rights of way. Measures will also be put in place to protect wildlife and to deliver ecological enhancements, known as Biodiversity Net Gain.
The Airport has also planted over 8,300 trees on land around the solar farm as part of the North East Community Forest project.
After the completion of the final phase, in the region of 150,000 tonnes of carbon will be saved over the proposed lifespan of the solar farm, thereby making a significant contribution to the Airport's sustainability goals.
Nick Jones, Chief Executive of Newcastle International Airport, said:"This is the biggest milestone so far in our journey to Net Zero. Our ambitious plan to decarbonise the Airport is critical to the North East becoming a low carbon region, and the solar farm development is demonstration of the willingness of the Airport to invest."
Councillor Tracy Dixon, Leader of South Tyneside Council and Lead for the LA7, said: "It is fantastic to see the airport making this significant commitment and investment in its journey towards net zero, and is reflective of our collective ambitions to be a low carbon region.
"Authorities across the North East have declared climate emergencies and have set themselves challenging targets in reducing emissions to achieve carbon neutrality.
"Together, we can work to bring about positive change."
Graeme Ferguson, Head of Airports, Europe at AMP Capital, said: "Sustainability and decarbonisation are key priorities for AMP Capital, and it is important to us that these goals are achieved by the assets that we invest in. The Airport's solar farm project, along with many other forward thinking initiatives, demonstrates its commitment to becoming Net Zero Carbon by 2035."