15 Nov 2019
Loganair celebrate 25,000 passengers at Newcastle Airport
Loganair have welcomed their 25,000th passenger since starting operations from Newcastle International Airport.
Lucky passenger Freek Vancraynest was surprised by airport staff as he checked in ahead of his flight to Brussels, Belgium.
Freek, from Belgium, had been visiting the region for business when he was taken completely by surprise as he was gifted two complimentary tickets to return to the North East of England.
He said: "I am very surprised, at first I thought it was a joke. I'm happy because this means that I get to come back here to the North East.
"I am now on my way home from working over here, and I didn't see much of the sights – so now I can come back and see everything. It is perfect."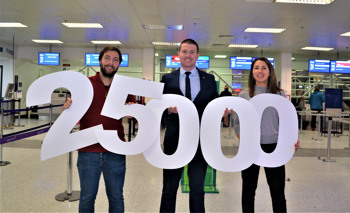 Freek was given the tickets by Chris Ion, the Airport's Aviation Development Executive and Kate Hall, Marketing and Communications Manager.
Loganair, which is the UK's fastest growing airline, opened a base at Newcastle in March and has added six routes to its repertoire since its successful launch.
Initially taking over flights to Brussels and Stavanger following the administration of flybmi, the Scottish airline's first North East flight took to the skies on 25th March.
Just six months later, Loganair commenced services to Aberdeen and also announced its plans to operate new routes to Bergen, Guernsey and Newquay.
Since launching as a second operator on the Newcastle to Aberdeen route, passenger numbers have almost doubled to and from the Scottish port city.
As well as these direct routes, passengers can connect on to long-haul destinations such as Rio de Janeiro, Sydney, Beijing and Mauritius from Brussels with some of Loganair's partnering airlines.  
Chris Ion said: "During the course of the year, Loganair have shown incredible commitment and investment to the region and it is fantastic to see them welcoming 25,000 passengers whilst offering such a great range of destinations.
"The airline provides an excellent service on their jet fleet and is proving very popular with both business and leisure passengers in the region."
Kay Ryan, Commercial Director at Loganair added: "We're extremely pleased to mark this fantastic milestone, only eight months after beginning operations from Newcastle Airport.
"With routes to Bergen, Guernsey and Newquay launching soon, 2020 is set to be a big year for Loganair in the North East as we continue to expand our network and further enhance the region's air connectivity.
"Congratulations to Freek and we look forward to welcoming you back onboard soon."