10 Sep 2020
Loganair announces double daily flights from Newcastle to Aberdeen
Loganair, the UK's largest regional airline, is giving passengers wishing to fly to Aberdeen even more choice by announcing an additional daily flight between Newcastle and the Scottish city. This brings the total number of flights each week to twenty two.
In the early stages of the COVID-19 pandemic, flights between the two cities were suspended for two months, but on 1 June Loganair became one of the first airlines to resume a limited schedule from the Airport.
Connectivity between the two regions is vitally important for the transport-reliant offshore industry and will be welcomed by many regional businesses, especially as they recover from lockdown restrictions.
Operated on the airline's Embraer 135/145 Jet aircraft, Loganair will fly two services to Aberdeen every weekday and one every Sunday.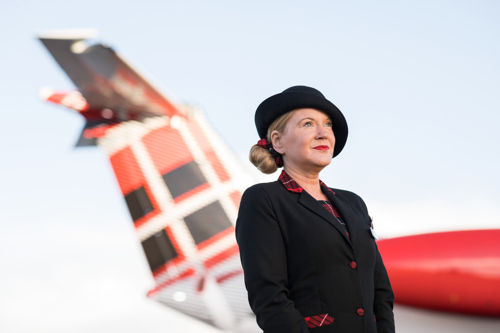 The airline has introduced a range of COVID-19 healthy flying protocols, including a FlySafe programme that features enhanced cleaning between flights including all touchpoints, nightly deep-cleans, auto seat-allocation to socially distance those onboard as far as possible, mandatory face-coverings for crew and customers and zonal embarkation.
Newcastle Airport announced its Ten Point Plan of measures ahead of passengers returning in June. The plan ensures the terminal is a safe environment for all and includes mandatory face mask wearing, hand sanitiser stations throughout the passenger journey and an enhanced cleaning regime.
Kay Ryan, Loganair's Chief Commercial Officer said: "I'm delighted that we are in the position to increase our flights to Aberdeen from 14 September.
We've been operating this route from June in order to ensure essential workers in the Oil & Gas Industry have been able to get to work.
This 'step up' in our frequency reflects increased customer demand not only on our Aberdeen route, but also on Southampton, Stavanger and Exeter."
Richard Knight, Chief Operating Officer at Newcastle International Airport said: "The connection between Newcastle and Aberdeen is vital for the region's economy and many businesses who operate in the offshore sector.
"Aviation as an industry is facing significant challenges at the moment so it is excellent to see Loganair expanding their schedule such a short time after resuming their flights from the region.
"The airline has a number of robust safety measures in place, and along with our own Ten Point Plan we hope this will give passengers confidence that they will be safe when travelling."
Paul Livingstone, Head of Business Development at NOF said: "We welcome the additional daily flight between Newcastle and Aberdeen, which is a positive reflection on the demand from the many North East businesses operating in the offshore energy industry.
"The additional flights from Loganair strengthen Newcastle Airport's links with the strategically and economically important city of Aberdeen, as well as the wider north-east of Scotland region."