12 Oct 2022
Jet2.com and Jet2holidays announce huge Summer 24 Sun programme from Newcastle International Airport
Release of exciting Summer 24 Sun programme gives customers and independent travel agents the chance to book ahead and lock in the price now
Fantastic choice of 34 sun destinations and over one million seats on sale for Summer 24 from Newcastle International Airport – with more good news coming soon!
Programme includes brand-new route to Crete (Chania) and offers more Greek routes from Newcastle International Airport than any other airline and tour operator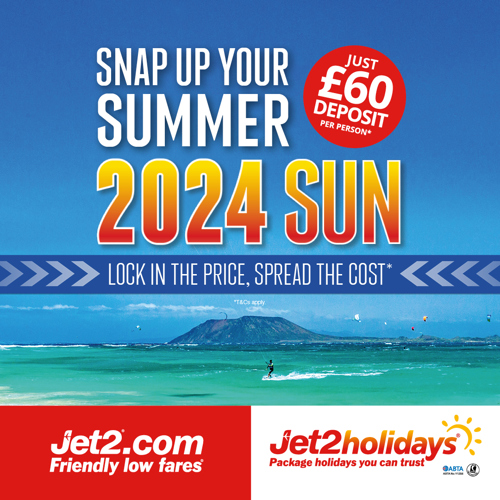 12th October 2022: With Autumn well and truly upon us, Jet2.com and Jet2holidays are giving customers the opportunity to look ahead and get a well-deserved summer break booked into the diary with the price locked in, by announcing a scorching Summer Sun programme for 2024 from Newcastle International Airport.
The UK's leading tour operator to Greece, Turkey and the Canaries has put flights and holidays on sale for Summer 24 nice and early, with customers and independent travel agents able to choose from 34 sunshine destinations from Newcastle International Airport – including a brand-new route to Crete (Chania).
With weekly flights operating to Crete (Chania) from May to October, local holidaymakers can access the Chania region on the western side of Crete for the first time from Newcastle International Airport with Jet2.com and Jet2holidays, and the new addition also gives them the choice of two Crete destinations for Summer 24. This picturesque part of Crete has every type of holidaymaker covered thanks to its old harbours, Blue Flag beaches and emerald-green gorges.
The programme, from the largest tour operator in the North East, has been put on sale in response to customers wanting to book well in advance, lock in the price of their holiday now and spread the cost. Offering fantastic choice and flexibility to destinations across the Mediterranean from the Canaries to Cyprus, including Malta and Croatia, customers and independent travel agents can also book or travel on a summer break to other popular sunshine destinations in the Balearics, Spain, Greece, Turkey, Italy, and Portugal for Summer 24.
As the leading airline and tour operator to many leisure destinations, Jet2.com and Jet2holidays are offering huge and unrivalled choice, with over one million seats on sale and over 120 departing weekly flights to sunshine destinations during peak times from Newcastle International Airport.
The programme includes 18 weekly flights to the Canary Islands, over 20 weekly flights to the Balearic Islands, up to 21 weekly flights to ten Greek destinations and up to 21 weekly flights to Turkey during peak times. The scale and size of their Greece programme means the companies are offering more Greek routes for Summer 24 than any other airline and tour operator.
The good news does not end there, as the companies will be making further Summer 24 announcements over the coming weeks, including the launch of their leisure city destinations for Summer 24.
Other key Summer Sun highlights for 2024 include:
Newcastle International Airport:
34 sun destinations on sale (peak number of flights per week in brackets)
Antalya (8), Bodrum (2), Dalaman (9), Izmir (2), Tenerife (8), Lanzarote (5), Fuerteventura (2), Gran Canaria (3), Reus (3), Alicante (9), Malaga (7), Girona (1), Palma (Majorca) (13), Ibiza (7), Menorca (3), Faro (Algarve) (7), Madeira (1), Crete (Heraklion) (3), Crete (Chania) (1), Corfu (3), Halkidiki (1), Kefalonia (2), Skiathos (1), Santorini (1), Kos (2), Rhodes (3), Zante (4), Larnaca (3), Paphos (2), Verona (1), Bulgaria (Bourgas) (2), Dubrovnik (1), Malta (2), Jersey (1)
Over 120 departing weekly flights during peak periods
This summer saw Jet2.com and Jet2holidays operate their biggest ever summer programme. Despite operating thousands of flights and carrying millions of customers, the companies did not cancel a single flight in July and August, with flight data published by leading travel intelligence company OAG revealing that Jet2.com was the only UK airline not to cancel any flights during these busy months - https://www.oag.com/en/on-time-performance-airlines-august-2022?hsLang=en-gb
Millions of holidaymakers have travelled on award-winning flights and ATOL protected package holidays to sunshine destinations during the summer, seeing them experience and enjoy the company's VIP customer service. This VIP customer service includes friendly flight times and a generous 22kg baggage allowance through a flight-only booking with Jet2.com, which saw the airline win five accolades at the TripAdvisor Travellers' Choice® Awards for Airlines; or that very same VIP customer service, in-resort Customer Helpers, transfers, free child places and ATOL protection with Jet2holidays. As well as a choice of thousands of 2-5 star hotels through Jet2holidays, customers can also enjoy all the benefits of a package holiday but with the added privacy of a villa holiday, by booking their Summer Sun with Jet2Villas.
The companies' industry leading customer service has seen them be awarded with the prestigious title of Which? Travel Brand of the Year for 2022, in recognition of the way that they have treated customers both during the pandemic as well as now that international travel has reopened.
Steve Heapy, CEO of Jet2.com and Jet2holidays said: "We know that customers are looking to book in advance so that they can get the best choice of dates, rooms and resorts, as well as lock in their price now and spread the cost. In response to this demand, we have put a huge Summer 24 Sun programme on sale nice and early. With Summer 24 available to book, we are offering flights and holidays across four seasons, so whether customers are looking to book ahead or last minute we have them covered."
He added: "The scale and size of our programme, combined with our track record of looking after customers and getting them away on their holidays, means we are looking forward to a huge Summer 24, and we know that the programme will be enormously popular with customers and independent travel agents. There are further exciting announcements in the pipeline too, so holidaymakers can expect yet more good news about our Newcastle International Airport operations very soon."
For further information and to book visit www.jet2.com or www.jet2holidays.com