20 Dec 2019
Its 'Love Actually' at Newcastle Airport as family and friends are reunited for Christmas
Newcastle International Airport have been following the stories of passengers being reunited in time for Christmas.
With family and friends set to be reunited for Christmas and sun-seekers escaping the chilly weather for warmer climes, December has seen the airport pass five million passengers for the third year in a row.
Around 80,000 travellers are set to depart from the North East's largest airport between December 18th and January 2nd, with many going to celebrate the festivities in a range of city break destinations – including New York, Bangkok, London and Dubai.
This year (2019), has been another successful year for the Airport, with the announcement of two new airlines - Lufthansa, Europe's only five-star airline, and Loganair, Scotland's regional airline.
A total of 11 new routes were announced in 2019, with additional services going to Munich, Bergen, Guernsey, Newquay, Agadir, London Southend, Sharm El Sheik, Hurghada, Kos, Santorini and Skiathos.
The Airport continued to invest in its terminal with a range of new facilities opening over the course of the year, including the multi-million-pound Meet and Greet car park, the new Quaystone Bar and Kitchen, and a sensory area for passengers with hidden disabilities – a first for any airport in the North of England.
2019 also saw the launch of the Airport's inbound tourism website for the North East, Visit North East England, which is set to increase the number of visitors to the region by targeting extra tourists from overseas.
To help get passengers in the yuletide spirit, carol singers from local schools visited the terminal on Wednesday (18th Dec) to spread some Christmas cheer whilst raising money for the Airport's official charity partners - the Newcastle United Foundation, the Foundation of Light and the MFC Foundation.
During the year, staff at the Airport raised thousands for the three foundations, through collections in the terminal, a corporate Race Day and a number of employee engagement events such as bake sales and a 10-mile walk.
Nick Jones, Chief Executive at Newcastle International Airport, said: "Christmas is a special time of year at the airport and it's a fantastic to see our worldwide connections allowing people to spend Christmas together in the North East, or to jet off to sunnier climes.
"It is a great achievement to see five million passengers pass through the Airport for a third consecutive year and we look forward to welcoming more new routes to the region in 2020."
Passengers are reminded that when travelling, any liquids in your hand luggage must be under 100ml and stored in a clear, sealed bag. This includes Christmas gifts like aftershave and perfume.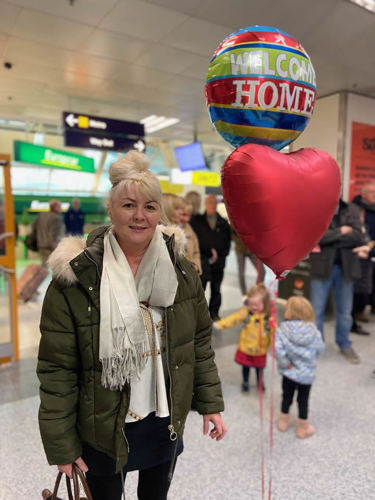 Liz Paynter, who travelled up from Teesside to Newcastle International Airport to greet her daughter arriving back from Canada. Liz's daughter has been in Canada for the past eight months, so she was excited to greet her from her connecting flight via Heathrow with British Airways.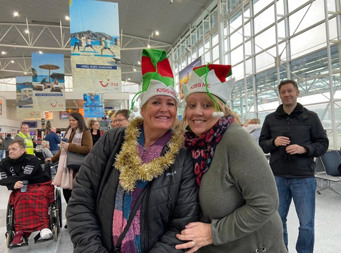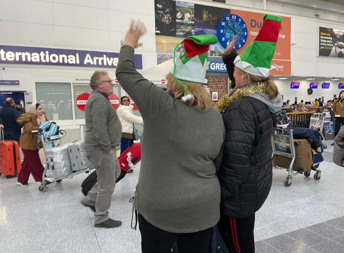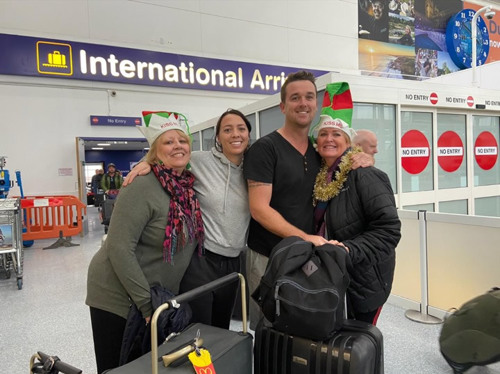 Friends Dee Swanson and Val Smith were waiting to be reunited with their children Steven and Rachel Swanson. The married couple have been in Australia for the past nine years, but flew back via Dubai to spend Christmas with their family. Whilst waiting for Rachel and Steven, Val said: "We are so excited, we can't wait to see them and can't wait to have them home for Christmas."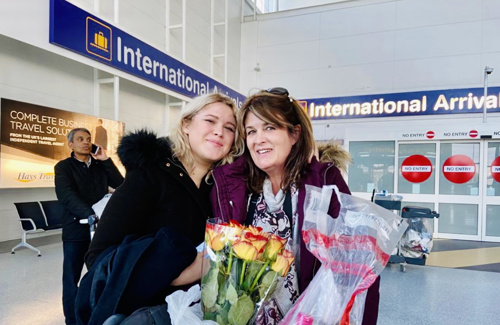 There was a tearful reunion for mum Melissa and daughter Andrea, who have been reunited with each other for the first time in over a year. The pair are both from Johannesburg, South Africa, but Melissa has made the journey to the North East to visit Andrea, who is studying at Newcastle University. Andrea surprised her mum with a beautiful bunch of flowers as she touched down in Newcastle following her flight from South Africa via Paris with Air France. Andrea is planning on showing her mum the Quayside and Newcastle's Christmas markets before she heads home in mid-January.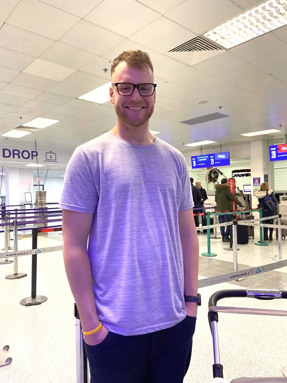 Ben Wilkinson, from Yorkshire, is spending his first Christmas at home since 2012 after moving to Canada. He flew to Newcastle via Amsterdam Schiphol with KLM.