01 Nov 2022
Emirates expands service from Newcastle International Airport
Newcastle, UK, 1 November 2022: Emirates, the world's largest international airline, is scaling up its operations at Newcastle International Airport to allow passengers from the North East to fly seven days a week from 1 December 2022.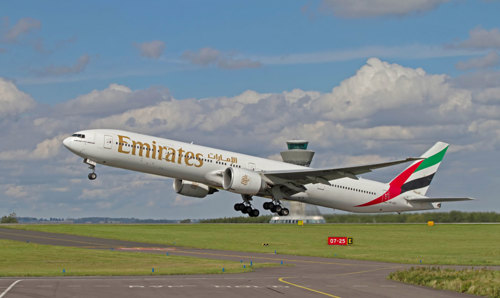 The airline, which operates a wide-body Boeing 777 aircraft, fitted in a two-class configuration split between Business and Economy, will introduce a 6th and 7th weekly flight from 1 December to meet the continued demand at the region's largest airport.
Emirates now offers an earlier lunchtime departure, making it even easier for North East passengers to connect to popular long-haul destinations including Dubai, Thailand, Australia, Malaysia and the Indian Ocean.
Richard Jewsbury, Emirates Divisional Vice President in the UK, said: "We're excited to be scaling up our operations to and from Newcastle Airport to offer a daily service from 1 December, in order to provide even better connectivity to people in the North East. With a steady growth in bookings to Dubai and beyond from the airport, we expect this trend to continue over the busy Christmas and New Year period."
Nick Jones, Chief Executive Officer at Newcastle International Airport, said: "Emirates' Dubai service has gone from strength to strength over the past 12 months. We are all pleased that demand for the iconic eastbound service has continued to grow resulting in the return of their pre-pandemic daily schedule, departing at lunchtime. Not only does this investment represent the airline's confidence in our Airport, but opens up even more opportunities for the North East public to connect to the world via Dubai in addition to creating even more cargo capacity."
Fly better to 130 destinations with Emirates
From 1 December, Emirates will serve the UK with 119 weekly flights across seven UK hubs, including Heathrow, Gatwick, Stansted, Manchester, Birmingham and Glasgow, as well as of course Newcastle.
Emirates' extensive network spans to 130 destinations, across six continents. The airline continues to place top priority on safe travel with the implementation of comprehensive set of measures on the ground throughout all touchpoints and on board to provide its passengers with the highest safety and hygiene standards at every step of the journey. Customers travelling from Dubai can also take advantage of state-of-the-art contactless technology to ease their journey through the airport.
Emirates also offers its customers an unmatched culinary experience in the skies with regionally inspired multi-course menus developed by a team of award-winning chefs complemented by a wide selection of premium beverages. Customers can sit back and relax with more than 5,000 channels of carefully curated global entertainment content featuring movies, TV shows, music, podcasts, games, audiobooks and more with ice, Emirates' award-winning inflight entertainment system.
For more information, visit emirates.com. Tickets can be purchased on emirates.com, Emirates Sales Office, via travel agents or through online travel agents.