07 Mar 2018
Emirates celebrates its 2 millionth passenger on popular Newcastle to Dubai route
Emirates, a global connector of people, places and economies, today celebrated its two millionth passenger at Newcastle International Airport. Achieving this milestone just over a decade after its inaugural flight to the city in 2007, the international airline is the only long-haul carrier to operate a daily service from Newcastle.
To mark the milestone, Emirates surprised the lucky two-millionth passengers, Raymond and Margaret Henderson, with complimentary return tickets to Dubai.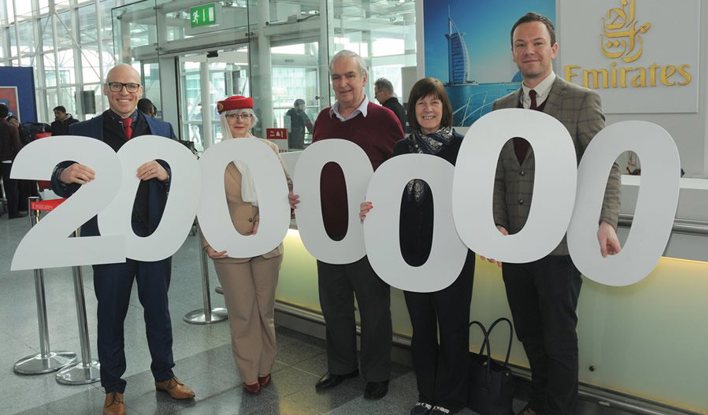 From Newcastle, passengers connecting through Dubai have travelled around the world with Emirates. The most popular onward destinations from Dubai for Newcastle Business Class passengers include Bangkok, Sydney, Perth and Melbourne while Economy Class passengers enjoy destinations such as Hong Kong, Dhaka, Singapore and Phuket.
Newcastle's strategic position in the heart of the Northern Powerhouse facilitates exports from UK businesses to the Middle East and beyond. Emirates SkyCargo has transported 32 million kilos of cargo since its first flight from the airport over a decade ago. The most popular exports from Newcastle include auto parts, pharmaceuticals, chemicals, oil well equipment and falcons. While some of the popular imports flown into Newcastle with Emirates SkyCargo are auto parts, garments and pipeline equipment.
Laurie Berryman, Vice President UK & Ireland, Emirates said: "We're honoured to celebrate our two millionth passenger in Newcastle. It seems like just yesterday we were welcoming our first passengers arriving from Dubai to Newcastle on a glorious sunny day and hosting football legends Sir Bobby Robson and Alan Shearer at a gala dinner headlined by Chris Rea. We hope Raymond and Margaret enjoy a trip of a lifetime to Dubai.
"Our greatest pride as an airline is our ability to connect people, places and economies and this remains our guiding principle. I look forward to seeing what the next decade brings for Newcastle and the wider North East of England as its position as a tourism and trade hotspot continues to grow. Here's to the next two million passengers!"
Nick Jones, Chief Executive at Newcastle airport added: "Having Emirates fly from Newcastle has brought the people living in the North East closer to the rest of the world. The Middle East, Dubai, Asia and Australasia are key travel destinations and export routes for the residents and businesses of Newcastle and the North-East of England. Having the daily service to Dubai has contributed to the success of the airport and of the wider region and I'm delighted to welcome the two millionth passenger. As global trade becomes all the more important in the next few years, we anticipate its influence will only continue to grow."
Councillor Iain Malcolm, Leader of South Tyneside Council and lead of the LA7 shareholders said: "Emirates' 2 millionth passenger marks yet another success for Newcastle International Airport which keeps going from strength to strength. The airport is hugely important to the North East, both as a gateway for the region and as a generator of jobs and millions of pounds for the local economy."
Through its presence at Newcastle, Emirates has been able to further strengthen its global workforce by employing talented team members on the ground by employing 13 permanent staff at the airport and 85 indirect ones through its partners.
As with all Emirates flights, passengers enjoy the extra generous Emirates baggage allowance of 30kg in Economy Class and 40kg in Business Class. Business Class passengers can also enjoy Emirates' complimentary Chauffeur-drive service, to and from their flights.
The daily Newcastle to Emirates is operated by a two-class Boeing 777, departing at 13:00 and arriving in Dubai at 00.15 the next morning.
Emirates currently operates out of six UK gateways, including include London Heathrow, London Gatwick, Birmingham, Newcastle, Manchester and Glasgow. An extra daily flight will be added from London Stansted as of June 2018, bringing the total of daily flights from the UK to Dubai to eighteen.