07 Jul 2022
Corendon Airlines puts Summer 2023 flights on sale from Newcastle International Airport 

Corendon Airlines today announced the launch of its summer 2023 schedule, which includes flights to the popular Turkish destinations of Antalya and Dalaman from the North East's largest Airport.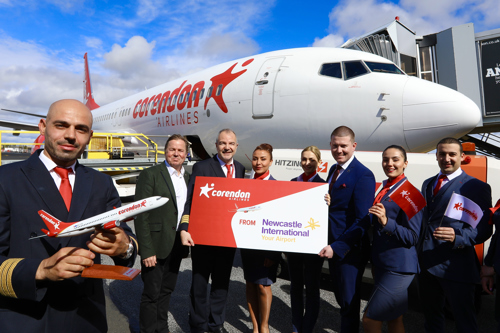 The Turkish low-cost airline began operating flights from Newcastle International for the first time this year, providing additional capacity to some of Turkey's most popular holiday resorts.
Following strong sales for this summer, next year the airline has confirmed it will operate twice-weekly flights to Antalya, every Wednesday and Saturday, alongside weekly flights to Dalaman every Saturday. Weekly flights to Antalya will also operate every Sunday during winter.
Corendon Airlines Commercial Director, Mine Aslan said: "We are pleased to announce our new Summer 2023 schedule, offering passengers a variety of lovely destinations in Turkey. We have developed strong relationships with the majority of UK Tour Operators, OTAs and retail agents, who are now able to offer our full range of Summer and Winter flights."
Leon McQuaid, Director of Aviation Development said: "Turkey is an extremely popular choice for North East holidaymakers and this year sees the Airport's biggest ever flight and holiday programme to the country.
"Corendon Airlines provide a low-cost flight option, perfect for passengers looking to take advantage of Turkey's warm summer climate, great value hotels and beautiful beaches.
"We are delighted to hear that sales have been strong and look forward to working with the Corendon Airlines team over the coming year, providing even more choice for our passengers to some of their favourite destinations."
Corendon Airlines has over 500,000 seats on sale for Summer 2023 across the UK and has launched its 2023 summer flights with very competitive rates to attract early bookers, with prices starting from £39.99.
For further information and full details of flight available from Newcastle, visit www.corendonairlines.com or visit your local travel agent.