03 Jan 2018
Airport Launches Brand New Campaign
The North East's largest airport, Newcastle International Airport, last week unveiled its newest multi-audience, multi-channel marketing campaign, 'That's why I fly from Newcastle', highlighting its award-winning airport experience.
The airport, which recently placed fifth on a list of the world's happiest airports, will reach over 3.5 million people with its fully integrated, multimedia campaign across the whole of the North East, as well as a wider area stretching up to the Scottish Borders, down to Yorkshire and across to Cumbria.
'That's why I fly from Newcastle' aims to highlight the Newcastle Airport's unique selling points, including its friendly staff, low queuing times, punctual flights and multitude of exciting destinations through a range of radio, press, outdoor and digital advertising. The campaign will also be supported across social media using animated GIFs and specially created video content to communicate key messages to audiences across the North East, Scottish Borders, Yorkshire and Cumbria.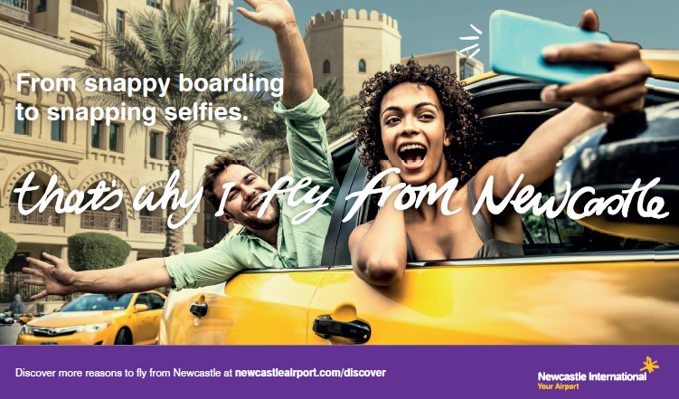 For the first time ever, Newcastle Airport has also launched its very own TV advert, which premiered on Border TV on Boxing Day. The 30 second ad shows holidaymakers enjoying themselves on a variety of different trips while the local voiceover further highlights the airport's unique selling points including low queue times, the friendly welcome passengers receive or their choice of more than 80 destinations in a bid to persuade customers to travel to the North East's largest airport, instead of crossing the border to Scotland.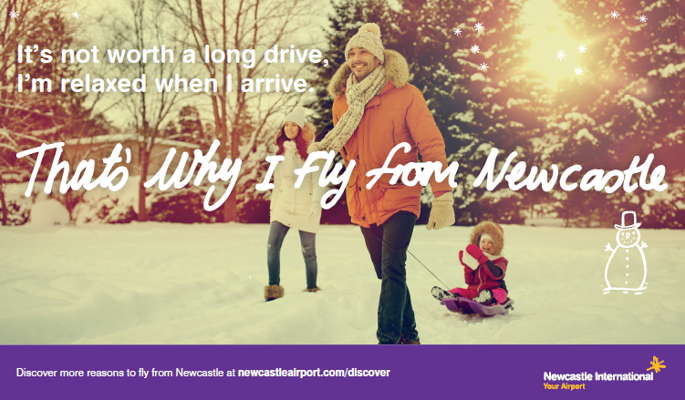 Nick Jones, Chief Executive at Newcastle International Airport said: "Having recently placed fifth in a list of happiest airports in the world and been named 'Airport of the Year' for the North of England, there are clearly so many reasons our passengers choose to fly from Newcastle and that's exactly what we wanted to capture with this campaign.
"The campaign showcases our unique personality as the North East's largest airport, the fantastic services we offer and the wide variety of great destinations passengers can fly to and I'm incredibly proud of it.
"As the airport continues to grow and passengers continue to travel here from further afield, it's vital that our messaging is delivered right across the wider catchment area, which is where our brilliant advert on Border TV and our advertising activities across Yorkshire come in to play. This really has been a brilliant campaign to launch."
The campaign, which on 26th December, will run until the end of March across TV, radio, press, outdoor and digital advertising.