As an Operative at Samson Executive Jet Centre at Newcastle International Airport, you never know who is going to walk through your door!
Nicholas Mongan, Samson Operative, joined Newcastle International Airport 18 years ago after a career in hospitality, and now he says the Airport is "in his blood."  
Nicholas spoke to Lucy McMahon from the Airport's Marketing Team about his role and why, 18 years later, he's never looked back.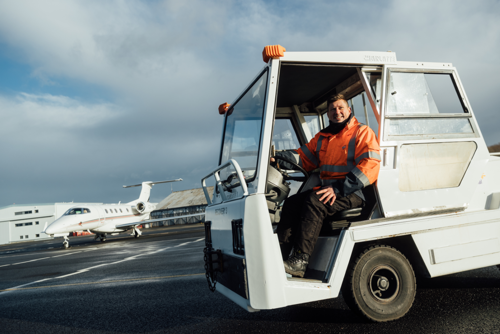 Before we start, what's your favourite biscuit? 
 A Jaffa Cake!
A Jaffa Cake! Is it even a biscuit?
How many years have you been sharing a pack of Jaffa Cakes with your team at Newcastle International Airport?
I've worked at Newcastle International Airport since 2004.
Wow! 18 years. That's amazing.
What was your first role at Newcastle International Airport?
My first role was in the Airside Operations Team over at the main terminal on a temporary, seasonal contract for the summer. I applied as I needed a job whilst I looked for a permanent role elsewhere.
During my temporary contract, my manager spent a lot of time developing my skills and training me in multiple different areas within airside operations. I didn't expect to love it as much as I did, and thankfully I got kept on at the end of my contract.
I've never looked back since.
It's great to hear that our seasonal roles have the same opportunities as our permanent positions!
What do you enjoy most about your role as a Samson Operative?
The people. You work with different people every day, and every day you see something new. At Samson Executive Jet Centre, you interact regularly with different teams and departments, including air traffic, airside operations, security teams, catering suppliers and of course aircraft crew and our customers.  Being a Samson Operative is a unique role, and with my career background, it is the perfect position for me.
Where did you work before aviation?
Before I started in aviation, I worked in hospitality. My role as a Samson Operative is a combination of my love for hospitality and customer service and my passion for aircraft.
What does your average day look like within the Samson Executive Jet Centre team?
My role varies day to day. You can think you are going to have a quiet shift with one or two aircraft booked in and then get 18 aircraft movements that day!
Samson Executive Jet Centre is an Airport within an Airport. We process passengers, marshal and refuel aircraft as well as assist with catering, car parking and invoicing, to name a few.
Anything you think that happens in an Airport, it happens here.
What's your favourite moment at Samson Executive Jet Centre/ Newcastle International Airport?
We've had so many interesting and fascinating people use our facility over the years. I've met the most unexpected passengers, and had the opportunity to interact with people from all over the world and provide them with great customer service.
We know you can't mention any passenger names, but we can only imagine!
What's next for you in your career?
I've had several roles since 2004, and I have finally ended up at Samson Executive Jet Centre. Here is where I like to be and where I'd like to stay.
Throughout my whole career I've longed for a position like this, and finally I've got it. I plan on doing my very best and enjoying every moment.  
Interested in a career in aviation? 
If you are interested in a career in aviation, or among the growing team at Samson Executive Jet Centre, you can explore current opportunities on the Newcastle International website by clicking here.