Fancy standing on our runway with two Newcastle and Sunderland footballers? As a Car Park Operations Officer at Newcastle International Airport, no two days are ever the same. 
44-year-old Ian Thompson joined the Airport seven years ago after retiring from the Army and moving into a local council role, and he hasn't looked back since. 
Lucy McMahon, the Airport's Marketing & Communications Executive, chatted to Ian to find out more about his role, the Airport and the reasons why he is still loves working here after seven years.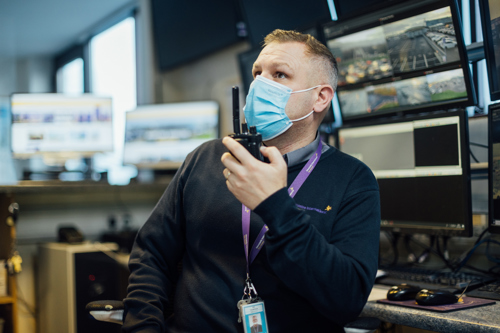 First things first, what's your favourite biscuit? 
A McVitie's Club! It's about taking the chocolate off around the outside and dipping it into your freshly brewed coffee.
Coffee! I much prefer a cuppa. How many years has it been since you started getting the coffees in for your team at Newcastle International Airport?
I've worked within the Car Parks team as an Operations Officer at the Airport for seven years, time flies when you're having fun!
Wow! That's great to hear. What do you enjoy most about your role?
I really enjoy the operational side of the Airport, and I love the hustle and bustle. It's completely different from my last job, which was office based.
I do not think you can find this kind of intense operation anywhere better than an Airport, especially in the summer, you never know what the day will bring.
Where did you previously work?
I used to be in the Army and then held a management role at a local council. After a while, I realised I wanted to work within business operations and move away from an office-based, Monday to Friday role. That is why I applied to work at the Airport.
What does your average day look like within the car park team?
My role varies, and no two days are ever the same! We have five car parks to look after so time is often spent outside, driving vehicles, checking equipment, collecting luggage trolleys and dealing with passengers.
I do have some admin tasks involved in my role too. I deal with passenger enquiries and incident reports, which I don't think people realise also goes on in the Car Parks team.
What's your favourite memory at the Airport?
My favourite memory was when I took part in the Great North Run (GNR) for our charity partners - the Newcastle United Foundation, the SAFC Foundation of Light and the Middlesbrough Football Club Foundation. I ended up on the runway with a Newcastle and a Sunderland football player to take pictures for the Chronicle!
It was the summer holidays and the flight schedule was really busy. We had to wait for a gap in runway traffic so we could quickly get a picture. Yeah, it was a surreal experience, especially after seeing my face in the chronicle the next day. I never thought that would happen to me!
That's amazing! Well done for doing the GNR.
The Airport is a great community. Do you feel like you are given the support you need and the tools to progress?
Absolutely! Our professional relationships are really important. The car park team does not hide from the rest of the Airport. Even though our office is not within the main terminal, we have a close relationship with other departments.  
I would like to move into a management position and I do see myself progressing within the Airport over the coming years. I have gained valuable experience so far and I'm looking forward to building on that. Unfortunately, the pandemic has had an impact on the Airport but we are now rebuilding and new roles and further opportunities are appearing all the time.
Interested? Apply now!