Solar Farm Project

Published: 3rd August 2021
Last Updated: 1st November 2021
This webpage will be updated regularly with the latest project information.
Respond to the Planning Application
We encourage stakeholders to give their views on the planning application submission by emailing [email protected], referencing 2021/1818/01/DET. Please note the deadline for submissions is the 4th November 2021. 
The full planning application can be viewed here.
We have collated the questions received via the public consultation prior to the application submission and provided answers, to view please click here.
The need for the scheme
As a responsible organisation, we recognise the need to reduce our carbon outputs. We are committed to becoming a Net Zero carbon emissions site by 2035. In order to achieve this we have developed a Net Zero Carbon 2035 strategy that looks at ways Your Airport can become more sustainable through reducing and offsetting our carbon emissions.
Our heating and electricity use forms a significant part of our carbon emissions. While we have taken many steps over the years to retrofit more environmentally friendly solutions, we now need to explore onsite renewable energy opportunities.
We have undertaken a series of studies in recent years, which have resulted in solar energy being considered the most suitable for our business. The proposed scheme would see the installation of a solar farm on Airport land to supply 100% of the Airport's electricity requirements.
Context Plan
The map below shows the location of the proposed Solar Farm in relation to the Airport site.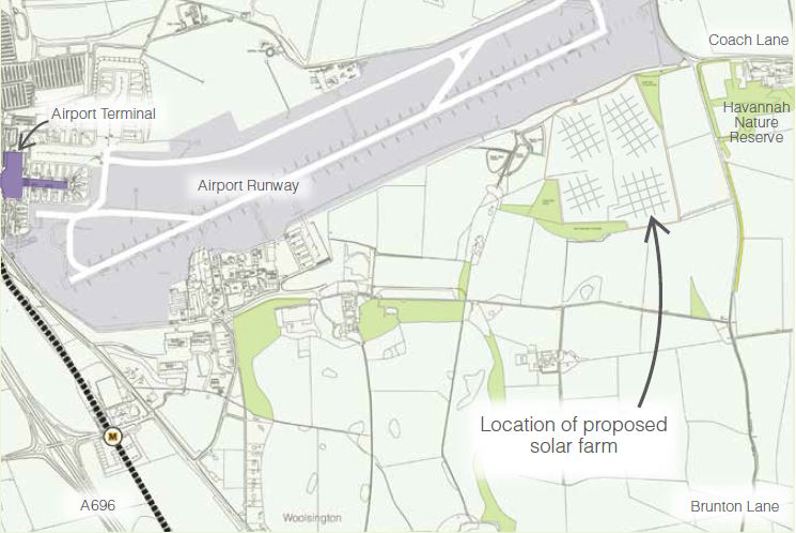 Click here to download a larger version
Project Overview
The proposed scheme includes a solar farm (up to 16MW) and associated infrastructure which will be built in 4 phases, between 2022 and 2035, to support the Airport now and in the future. The site for the scheme is situated to the south of the eastern end of the Airport runway, adjacent to the Main Road, Dinnington / Brunton Lane and Coach Lane junction.
Solar panels will be arranged across the site in a grid pattern. Battery storage units will be located on the site to capture unused energy generated during daylight hours, allowing energy to be stored and used during evening or times when there is less sunlight.
The scheme will include areas of tree planting to screen the view of the solar farm from the surrounding roads and public rights of way. We are also proposing larger areas of woodland planting adjacent to the site as part of a separate parallel project.
The proposed solar farm will be a time limited medium-term use of the site. At the end of its operational life the site will be decommissioned, and all equipment will be removed.
A temporary compound and access track will be installed for construction. Following completion, the temporary access track will be removed and the existing field access from Main Road Dinnington will be used to gain entry to the site.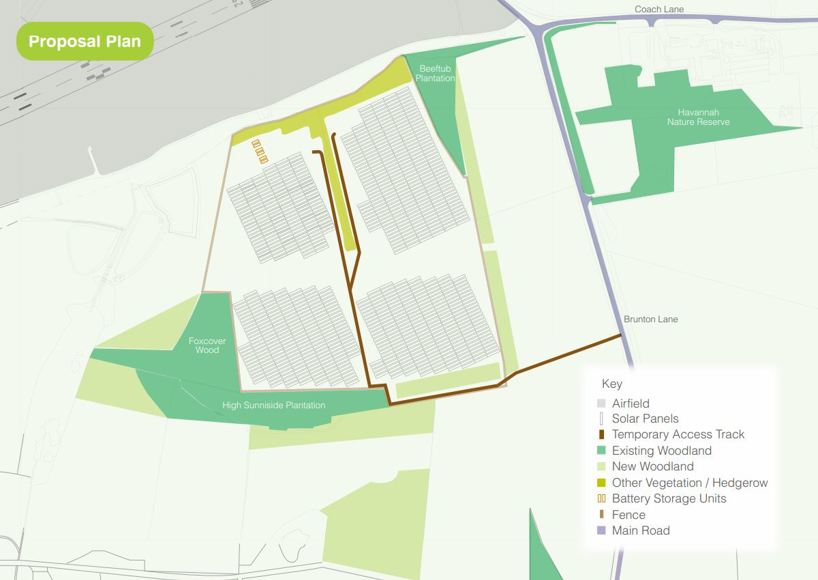 Click here to download a larger version
Additional Information