A Day in the Life: Security Officer
The Security Team works across the whole site and delivers an outstanding customer experience whilst maintaining the safety and integrity of the airport. If you were to join the Security Team, you would play a vital part in ensuring that the millions of passengers that travel through the Airport have a positive and safe experience.
The Security Officer role is varied and challenging, day to day you'll be responsible for:
Carrying out ID and boarding card checks
Searching customers, staff, airline crew and business partners
Carrying our security checks on cabin baggage
Operating security equipment such as Body scanner and X-Ray machines
You'll need to adopt a flexible approach to your working hours as we operate a 24/7 operation which includes early mornings, evenings, weekends and bank holidays.
Find out a little more about a day in the life of a Security Officer:
We caught up with Sarah from our Security team to tell us a little more about her role within the airport. She is a Security Officer and has worked in the team for 7 years.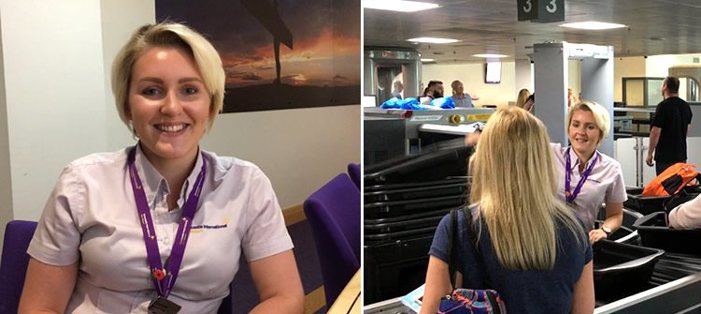 Tell us a little about yourself:
I'm Sarah and I've worked at the airport for 7 years now. I started when I left school at the age of 19 and the role has helped to build my confidence. Working with members of the public is a huge part of my role and I really enjoy it.
What's it like to work at Newcastle Airport?
It's really good, you get to work with people from all different departments and everyone is really helpful. Day to day I work with the airport handling agents and the terminal services teams, although it feels like one big team really.
What does a typical shift involve?
It can be many things. We have different roles within the airport so I could be positioned at a security barrier one day, within the control room the next and x-raying bags or searching passengers the next. There's a good variety of roles so it has helped me broaden my skills and adapt to different situations.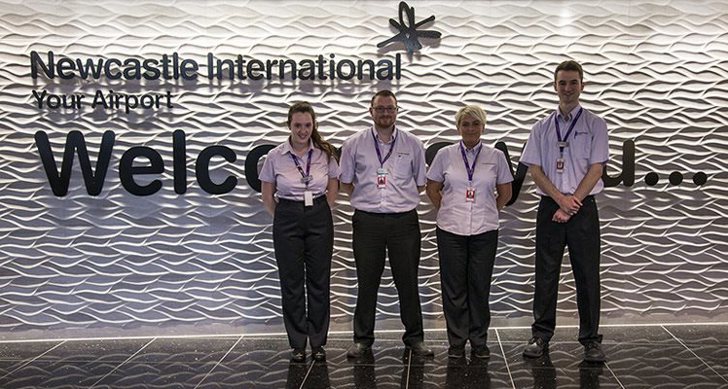 What would your advice be for anyone thinking of becoming a Security Officer?
Just do it! If you enjoy working with the public and are looking for a new challenge, just go for it. At first there's a lot to learn, but once you become experienced it's a great job.
How do you feel about your job?
I love it, I enjoy coming to work every day. I think it's really important to ensure our passengers are safe and secure and I'm proud to be a part of that.